Optus Digital Thumbprint reaches 300,000 students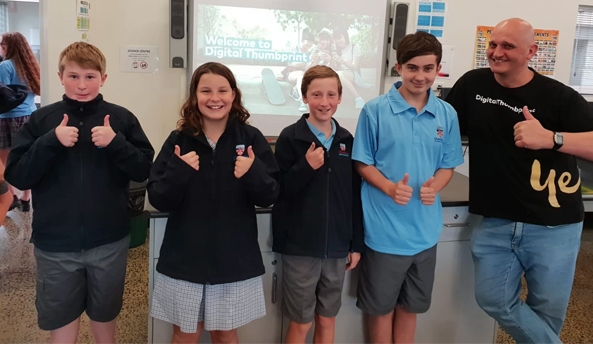 Since our Optus Digital Thumbprint Program was launched in 2013, a total of 300,000 secondary students across Australia have been taken through the program, with St Joseph's College in Geelong being the most recent school to help us reach this milestone.
The free-in-school program aims to equip students with simple and effective tools for being safe, responsible and positive online. In 2019, almost 50,000 primary and secondary students were reached in that year alone.
Optus Director of Sustainability, Helen Maisano said she was thrilled to see Optus' Digital Thumbprint Program reach this milestone, continuing to empower the next generation by engaging more students to create a positive digital footprint.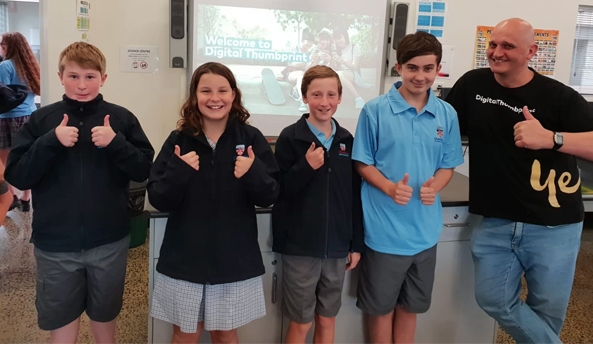 "When we first started the program in 2013, issues like cyberbullying, image-based abuse, protecting yourself from hackers and contact from strangers were new and emerging. Fast forward to today's digital world, almost everything is done online and it is incredibly easy for these kinds of issues to arise if the necessary precautions are not taken."
"This is why our program is so important; especially during COVID-19 lockdowns and restrictions driving more online study and activity. Through Digital Thumbprint, program, we are empowering young people and their families to be safe, responsible and positive online, as well as helping to steer them down the right direction in understanding fake news and differentiating between what's real and what's not."
"Making sure to implement ways to keep Australians safe as a priority during this time, whilst also continuing to educate around the meaningful topics as part of this program, we expanded on our original face-to-face Digital Thumbprint Program delivery model to offer new interactive digital versions. We were thrilled to see the return of the face-to-face model late last month, as many parts of the country move into the new normal."
"However, the digital model will continue as the flexibility it offers in terms of not needing to have a facilitator be physically present means teachers now have the freedom to lead the learning for students in their schools."
With in-school incursions in Victoria still on hold for many, St Joseph's College had students in year 7 participate in the digital version.
Creative Technology Leader/Science & RE Teacher at St Joseph's College Geelong, Susan Dickinson said, "Thank you Optus Thumbprint for the Zoom workshop! The Cyberbullying digital thumbprint session helped us to better understand our responsibilities online and make sure we are looking out for each other and only sharing images when we have consent."
Optus Digital Thumbprint Program is completely free for schools and does not promote any Optus products or services.