Since 2013, Optus has been running our free, award-winning Digital Thumbprint Program in schools across Australia – an initiative to educate young people around crucial digital safety and well-being topics. This award-winning program has been endorsed by the eSafety Commissioner as a Trusted eSafety Provider. Through facilitator-led and teacher-led digital interactive workshops, students learn about the importance of cybersecurity, digital identity, digital discernment, digital balance, cyberbullying and respectful relationships online.
We also have a range of guides and interactive quizzes for young people and families.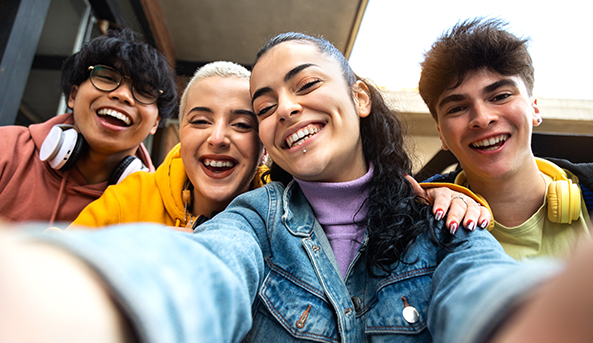 At Optus, as a leading provider of communications for Australians, our purpose is to "power optimism with options". As part of this, Optus are committed to serve our community and have a positive impact through our sustainability programs and initiatives. Many of our sustainability initiatives provide our customers with options that positively increase their own impact on the environment and community.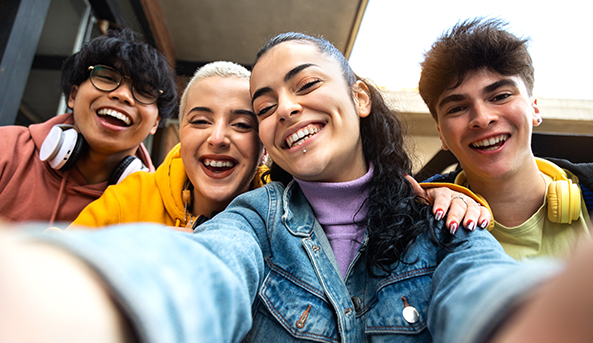 Advisers and Contributors
Dr Michelle Blanchard
Honorary Senior Fellow
School of Psychological Sciences, University of Melbourne
Executive Director – Strategic Projects
National Mental Health Commission
Dr Blanchard's contribution to Digital Thumbprint centres on her deep expertise in the use of technology to enhance the mental health and wellbeing of young people.
Dr Michelle Blanchard joined the National Mental Health Commission in 2021 to lead the development of a National Stigma and Discrimination Reduction Strategy and work alongside the Commission team and partners in Australia and overseas on several initiatives to catalyse change in mental health and suicide prevention.
From its inception in 2011 until 2016, Michelle was Head of Projects and Partnerships at the Young and Well CRC – an international research centre which explored the role of technologies in improving young people's mental health and wellbeing. During this time, Michelle was also an Honorary Research Fellow at the Centre for Youth Mental Health at the University of Melbourne.
Michelle's commitment to mental health extends beyond her research roles. She has served as a Board Member for the youth mental health organization, Batyr, and contributed as a member of the Community Health and Wellbeing Advisory Panel for the Lord Mayor's Charitable Foundation. Additionally, Michelle played a foundational role as a director in establishing the Anne Deveson Research Centre, an initiative launched by SANE Australia. The centre's mission is to drive improved social outcomes for Australians dealing with complex mental health challenges, as well as their families, friends, and colleagues.
Michelle holds a PhD in Youth Mental Health, a Bachelor of Arts (Honours) degree with majors in Psychology and Political Science and a Graduate Diploma in Adolescent Health and Welfare, all from the University of Melbourne.
Dr Blanchard continues to act as an adviser for the Digital Thumbprint program.
Dr Mark Gregory
BEng(Elec)(Hons), MEng, PhD, FIEAust, SMIEEE
Associate Professor
School of Engineering, RMIT University
Dr Mark Gregory made a significant contribution to the Digital Thumbprint program though his technical expertise, and his knowledge of effective teaching of technology subjects.
Mark is an Associate Professor focusing on network engineering and Internet security in the School of Engineering at RMIT University in Melbourne, Australia and has published more than 100 refereed papers. Mark is a Fellow of Engineers Australia, a Senior Member of the Institute of Electrical and Electronics Engineers Inc. and received an Australian Learning and Teaching Council Citation in 2009.
Dr Gregory is the Managing Editor of the International Journal of Information, Communications Technology and Applications and the General Chair of the IEEE International Telecommunication Networks and Applications Conference.
He has been the founding director of several companies that provide IT services, systems and software development, was an elected member of the Engineers Australia Victoria Division Committee 2010-2012 and is a Senior Member of the IEEE and a Fellow of Engineers Australia.
Ben Peters
Digital Literacy Co-Ordinator
Technology Co-Ordinator
Waratah Technology Campus, Callaghan College, NSW
BA Visual Arts, BA Education (Secondary), MA Education
Ben Peters contributed to Digital Thumbprint by sharing his deep knowledge of pedagogical approaches to technology learning for young people.
Ben is a secondary school teacher who, in addition to educating students in Information Technology has analysed, designed, and implemented many whole school and college online learning spaces encouraging the use of effective technology use in teaching and learning.